Features
• Intelligent digital design control circuit, the unit is powered by the system host, and the power consumption is low.
• High fidelity single directional capacitor microphone, sound restoration, high definition and low noise;
• The chairman unit has the priority to speak and can close other non voting units at any time.
• The chairman unit has the right to approve the representative's speech and display his identity.
• Unit metal bottom shell ultra thin design, high-grade and durable
• The meeting microphone tube adopts the design of hose and hard tube, which can be flexibly adjusted to match the use of different personnel;
• 128X64 LCD is configured to display unit identity, speaking mode, speaking status and speaking time.
• Excellent anti-interference ability of mobile phone.
• No noise, light touch switch design, flexible operation;
• The conference unit supports "hot plug" to restore the working capacity in time; 2.1m 8p single outgoing line, hand-in-hand one-wire "t" connection, easy installation and flexible operation.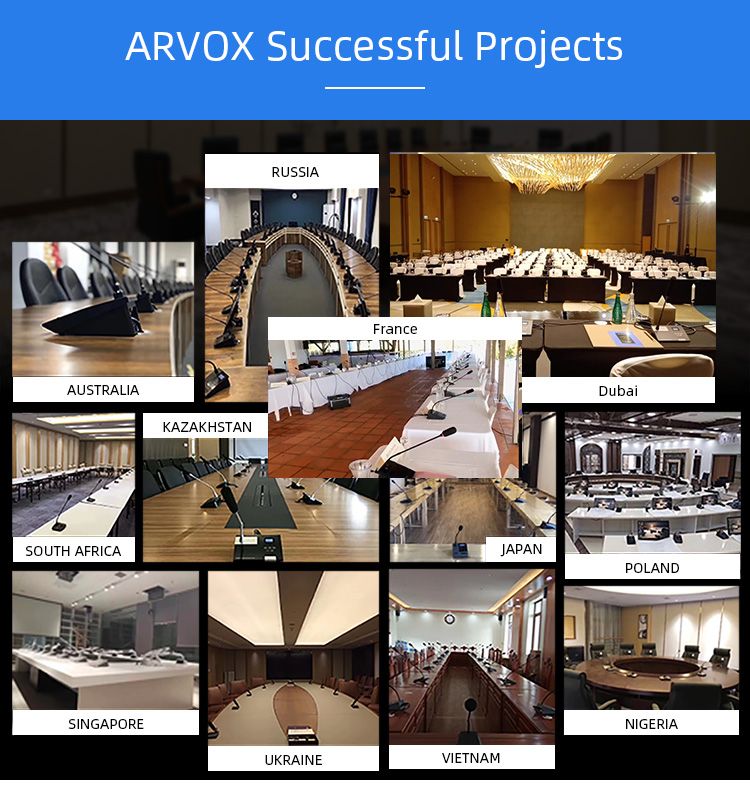 | | |
| --- | --- |
| Model NO. | RC-6508C/D |
| Type | Capacitive |
| Directivity | Single directivity |
| Frequency Response | 40 Hz – 16 KHz |
| Sensitivity | -43 ± 2 dB @ 1 KHz |
| Input voltage | DC 9V (Supply by host) |
| Min Input impedance | 1 KΩ |
| S / N Ratio | 90 dB |
| Input cable | 2.0m 8p shielded wire |
| Accessory | Windproof sponge |
Product Name
Digital Wired Discussing Conference System Controller
Model NO.
RC-6530MA
Power supply
AC 100-240 V 50 / 60HZ
Output impedance
RCA- 200Ω
LINE
200Ω
BALANCE
– 300Ω
UNBALANCE
-400Ω
Input impedance
LINE-50 KΩ
DIN-50 KΩ
S / N ratio
> 90 dB (1 KHz THD1%)
Case dimension
480 x 220 x 56 mm
Accessory
10 m 8 core shielded cable
Product Name
Digital Wired Video-Tracking Conference System Controller
Model NO.
RC-6540MU
Power supply
AC 100-240 V 50 / 60HZ
Output impedance
RCA- 200Ω
LINE
200Ω
BALANCE
– 300Ω
UNBALANCE
-400Ω
Input impedance
LINE-50 KΩ
DIN-50 KΩ
S / N ratio
> 90 dB (1 KHz THD1%)
Case dimension
480 x 360 x 85 mm
Accessory
10 m 8 core shielded cable