Features
• The microphone tube is equipped with a work indicator to clarify the working state;
• The arc streamline design of the conference seat is beautiful and generous;
• No noise, light touch switch design, flexible operation;
• TFT color display, unit identity, speaking mode and speaking status are clear at a glance;
• It supports multiple chairman units. When connected, it is not limited by location, and can be installed arbitrarily. It has the priority function of fully controlling the conference order and controlling the atmosphere of the venue.
• Excellent anti-interference ability of mobile phone;
• The unit is passive equipment and powered by the system host.
• The conference unit supports "hot plug" to restore working capacity in time;
• 2.1m 8p single outgoing line, hand-in-hand one-line "t" connection, easy installation and flexible operation.
• Chairman unit has speech button and priority button, priority button can override all delegate units.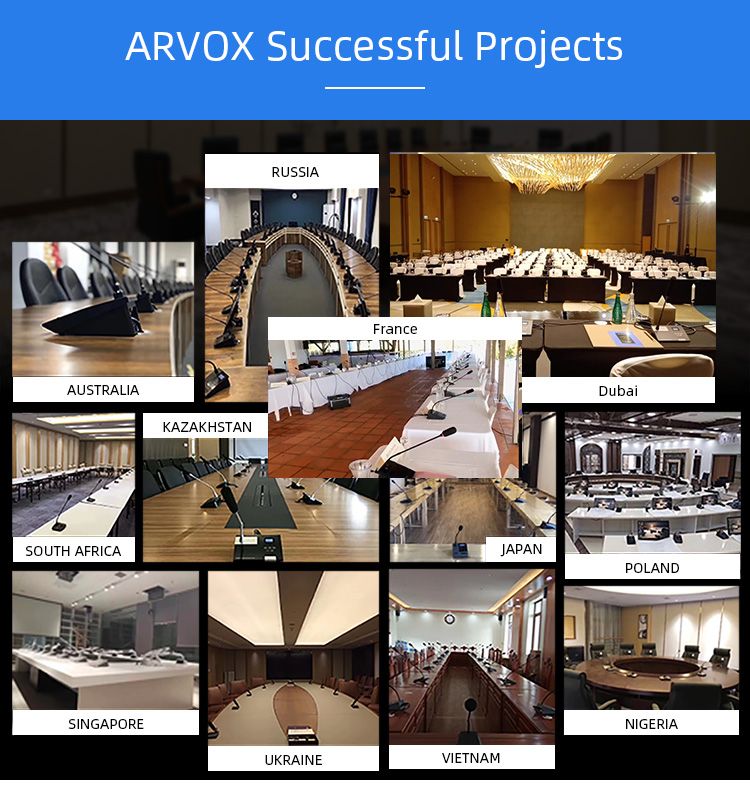 | | |
| --- | --- |
|  Model NO. |  RC-6511C/D |
|  Type |  Condenser |
|  Frequency Response |  40Hz-16KHz |
|  Sensitivity |  -43 ± 2 dB @ 1 KHz |
|  Input voltage |  DC 9 V (Supplied by host) |
|  Min Input impedance |  1 KΩ |
|  S / N Ratio |  > 90 dB |
|  Input cable |  2.0 M 8 core shield cable |
|  Accessory |  Windshield |