Features
• Intelligent digital design control circuit, low power consumption.
• The unit is powered by the system host. The input voltage is 9V, which belongs to the safe range
• The conference microphone adopts all metal cavity square design and built-in high fidelity single directional capacitor microphone to better collect human voice and have good sound pickup effect;
• Equipped with 2.4-inch high-definition color display, the system control information status can be seen at a glance
• The microphone key adopts high-quality, long-life, moisture-proof and dust-proof mute switch to eliminate the "bang" sound of switch vibration
• The chairman unit has the priority to speak and can close other non voting units at any time.
• It supports multiple chairman units, which can be installed arbitrarily without location restrictions when connected. It has the priority function of fully controlling the conference order and controlling the conference atmosphere.
• Anti interference circuit design is adopted to prevent the interference of electronic products such as mobile phones.
• Built in dual speaker design, which can be used for conference amplification and playing conference background music.
• A volume control knob is designed on the left to adjust the volume.
• 3.5 audio output and input interfaces are designed on the left side, and the access device can replace the conference speakers and listen to other non voting conference speeches
• Unit specific cable 8-core wire connection, "hand in hand" cable series connection mode, which is convenient for wiring and connection,
• Conference microphone unit, with black matte surface treatment and split design, is simple, beautiful and generous, feels good, durable and not easy to scratch.
• Patented design, die-casting base, zinc alloy die-casting bottom shell, stable atmosphere.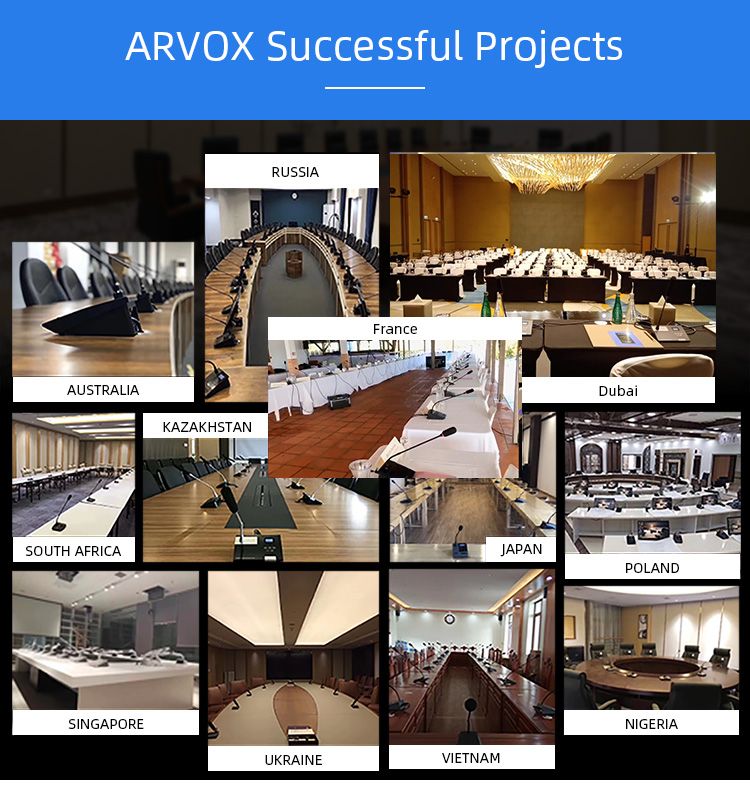 | | |
| --- | --- |
| Model NO. | RC-6524C/D |
| Type | Capacitive |
| Directivity | Single directivity |
| Frequency Response | 30 Hz – 18 KHz |
| Sensitivity | -43 ± 2 dB @ 1 KHz |
| Input voltage | DC 12V (Supply by host) |
| Min Input impedance | 1 KΩ |
| S / N Ratio | 60 dB |
| Output socket | 2.0m 8p terminal block |
| Input conductor | 2.0m 8p shielded wire |
| Accessory | Windproof sponge |
Product Name
Digital Wired Discussing Conference System Controller
Model NO.
RC-6530MA
Power supply
AC 100-240 V 50 / 60HZ
Output impedance
RCA- 200Ω
LINE
200Ω
BALANCE
– 300Ω
UNBALANCE
-400Ω
Input impedance
LINE-50 KΩ
DIN-50 KΩ
S / N ratio
> 90 dB (1 KHz THD1%)
Case dimension
480 x 220 x 56 mm
Accessory
10 m 8 core shielded cable
Product Name
Digital Wired Video-Tracking Conference System Controller
Model NO.
RC-6540MU
Power supply
AC 100-240 V 50 / 60HZ
Output impedance
RCA- 200Ω
LINE
200Ω
BALANCE
– 300Ω
UNBALANCE
-400Ω
Input impedance
LINE-50 KΩ
DIN-50 KΩ
S / N ratio
> 90 dB (1 KHz THD1%)
Case dimension
480 x 360 x 85 mm
Accessory
10 m 8 core shielded cable