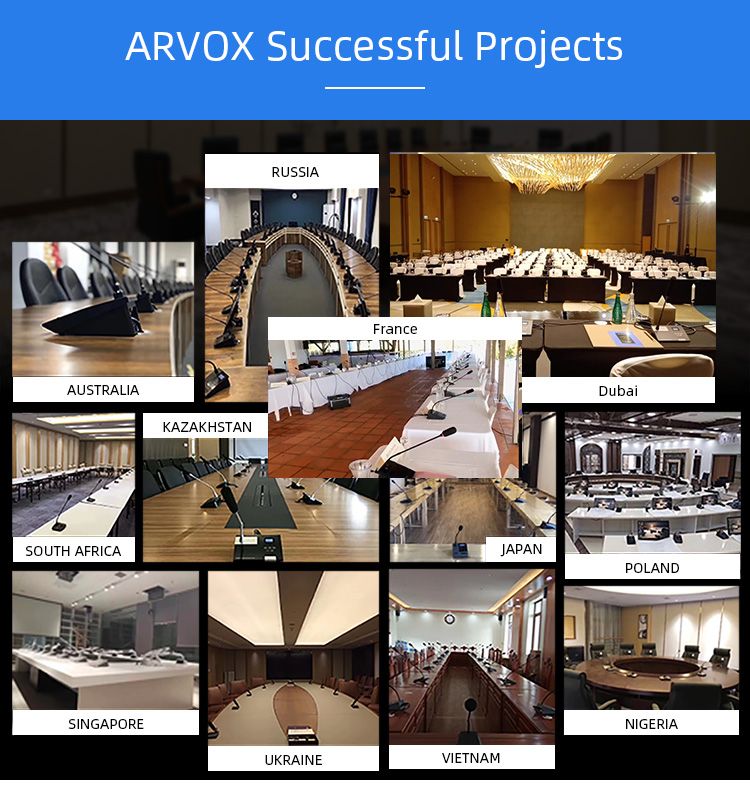 Features
• The 4.3-inch TFT full-color screen has its own touch function, and the visual operation interface can directly carry out various operations on the display screen.
• All digital integrated circuit technology is adopted, integrating conference discussion and video tracking functions.
• Seven speech modes: first in first out, last in first out, chairman only, restricted speech, free discussion, overwhelming rotation and application for speech.
• Bumber of speakers: 1-6 (optional), n (fully open);
• Support Chinese and English language switching, and customize any language;
• High power supply, four parallel control outputs, can connect 120 conference units, and has load and short-circuit protection functions, which can be connected to the expander
• The host can be connected for 160 meters or more;
• Built in cascade system, the host and slave cascade to automatically realize the expansion function; Realize 1 host control level on-line, easy to operate;
• The host has a dual computer hot backup system. The host and slave are connected through TCP / IP network. Under normal circumstances, the host is in working state and the slave is in monitoring state. Once the slave finds that the host is abnormal, the slave will replace the host in a very short time to fully realize the function of the host. Each host has an emergency fast backup switch. Once the backup function is triggered, it will start;
• Manual backup button is reserved on the front panel for one key backup;
• The external router generates a local area network, and all functions on the host can be operated wirelessly and remotely through the installation of interface software on the wireless mobile device;
• It can use PC interface or connect the central control to communicate with the host in real time through RS232 and USB ports to realize linkage operation;
• Built in perpetual calendar to display the current time synchronously in real time;
• 4 channels of HDMI video signal, 4 channels of input and 1 channel of video output, supporting HD signal. Three camera communication protocols with strong compatibility: PELCO_ D, Pelco_ P, VISCA
• It has intelligent power-off memory function, which can remember the running state of the program. In case of accidental power-off, the last setting will be restored after power on.
• Provide 1 channel of multi-functional balanced / unbalanced output and 1 group of RCA line input and output for audio amplification output and external audio access.
• The system supports hot plug-in operation, and units can be reduced or added at will.
 Model NO.
 RC-6550MU
 Power supply
 AC 100-240 V 50 / 60HZ
 Output impedance
 RCA- 200Ω
 LINE
 200Ω
 BALANCE
 – 300Ω
 UNBALANCE
 -400Ω
 Input impedance
 LINE-50 KΩ
 DIN-50 KΩ
 S / N ratio
 > 90 dB (1 KHz THD1%)
 Case dimension
 480 x 360 x 85 mm
 Accessory
 10 m 8 core shielded cable